Need help? You've come to the right place!
Whether you need assistance placing an ad or figuring out what sort of advertising package would work best, we're here to assist you. If you need help with an issue that is not addressed here, give us a call at 760-546-1184 or email us and we will reply back as soon as possible during normal business hours (8:00AM - 5:00PM PST, Monday - Friday). We are headquartered at 151 E. Third Avenue, Escondido, CA 92025.
Placing an ad
It's easier than ever to place an ad with us.
Step 1
Click on the big green "Place an ad" button at the top of every page, or the one below:
Step 2
If you are a new customer, click the "Create New Account" button in the window that pops up. Otherwise, log in to your existing account. Can't remember your password? Click the "Forgot Your Password" link and follow the instructions.
Step 3
Once logged in, click the red "Create a new ad" button and follow the directions. That's it!
Still having trouble?
Give us a call at 760-546-1184 and we'll be happy to help!
Ad pricing and features
We offer a variety of effective print and online advertising.
Classified Ads
All classifieds go into the print publication and online. These ads start at $6 for the first three lines, $4 each additional. A bold header is $4 extra per line. Print classifieds also appear online at no extra charge! If you don't want to wait until the magazine is delivered, your print classified ad can appear online within one business day with the $5 "Instant Ad" feature.
Fototrader® Ads
All Fototraders go into the print publication and online for only $35! From Horses and Tack, to Trailers & Apparel, you can sell any single item with a Color Fototrader! Featuring a color photo, bold header and up to 200 characters of text, purchasing a Fototrader enhance your opportunity to find a buyer. Print Fototraders also appear online at no extra charge! If you don't want to wait until the magazine is delivered, your print Fototrader can appear online within one business day with the $5 "Instant Ad" feature.
Internet-Only Ads
Internet-only ads appear instantly and only go up on the website -- not into the magazine. Your $5 horsetrader.com internet-only ad includes YouTube video, social media integration, links and much more! Internet only ads are posted every 2 weeks, on the 1st and 15 of each month.
Print Display Ads
There are a variety of sizes and options to choose from. View the current ad rates and sizes available. Request additional information on Display advertising by calling 760-546-1184 or learn more here.
Looking for an ad
It's NEVER been easier to find something equestrian online!
Simply type in what you are looking for and either (1) click on the red "search" button or (2) hit your ENTER key. It's that easy!

If you would like to narrow results of your search, before you hit "search", simply select from the "Section" menu to the right of the search text area.
You can also browse ads by clicking on any of the sections in the left- hand column. All ads in the section appear instantly, and you can filter by location, price and several other options!
Then, you can check out the details by selecting "See Ad Details", where you can contact the advertiser by phone or email, or see videos, slideshows, share on Facebook® and more!
Find nearby shows & events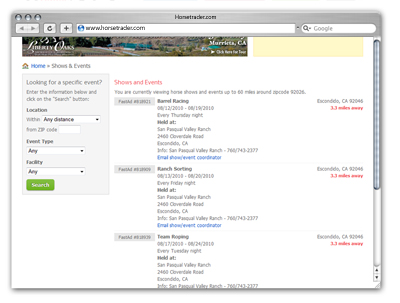 Want to see what's going on in your town and beyond? Visit the Shows & Events page and search by your zipcode.
About California Horsetrader & Horsetrader.com
Since 1979, California Horsetrader has been Your BEST Marketplace on the West Coast. This award-winning paper is published twice-monthly on the first and third Thursdays of the month. In addition to a long subscriber list, it is distributed in more than 1,000 horse-related businesses in California and adjoining parts of Oregon, Arizona and Nevada. Our office is located in Escondido, CA. California Horsetrader started the popular Horsetrader.com website more than 10 years ago!
Horsetrader.com works for more advertisers faster than any other equine website. Why? We reach the complete market because we deliver both online and in print - an unbeatable combination.
For a low price, you can place your classified or Fototrader® advertisement on Horsetrader.com as well as into up to four Horsetrader.com alliance publications The Equiery, Quarter Horse News, Horsemen's Yankee Pedlar and Barrel Horse News. You'll reach an audience located from coast to coast, and one that includes horse people interested in all breeds and disciplines from dressage to barrel racing. Plus, our listings are current -- coinciding with the publication issue dates - which attracts the potential buyers you are looking for -- the ones serious about purchasing your horse or your horse-related product or service.
Our Alliance
Horsetrader.com is more than the internet's top horse-for-sale website. We are a door to the equine publications that are read frequently by those people you are trying to reach. Your listings that appear in print in the California Horsetrader or The Equiery appear online as well, and you can enhance the online versions with pedigrees, links to your personal website, or even a video.